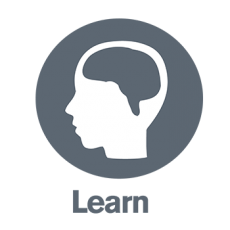 Adjusting your Routine
Time management is a key to staying on top of commitments and reaching your goals!
There is no doubt that some of the time normally spent in classes, with friends or in group meetings have decreased. Therefore, many students are left with ample "unstructured" time to manage.
Setting a schedule for yourself can help provide structure and keep you motivated. If you don't already keep a daily or weekly calendar, try something like the example below to organize your time. After you determine your class and study times, be sure to include time for things like meals, checking in with loved ones and getting fresh air.
Facts
In a survey of ASU students reflecting on their experiences of the past 12 months:
87.6% reported they had felt overwhelmed by all they had to do.
15.6% reported being overcommitted had a serious impact on their academic performance.
40.8% said that being overcommitted was very difficult or traumatic to handle.
Source: American College Health Association-National College Health Assessment: Arizona State University Spring 2019. Baltimore: American College Health Association; Spring 2019 (n=2,096).
There are 24 hours in a day, 168 hours in a week. This doesn't change no matter how much you have to do.
As a college student there are so many activities to fill this time: meeting new friends, going to games, attending club meetings, working out at the Sun Devil Fitness Complex, going to Broadway musicals at Gammage, and more. Attending class, studying, group projects and utilizing office hours to talk with instructors requires dedication of time. Other timely essentials include sleeping, eating and finding time to relax and unwind. If you are a student with family responsibilities, this requires additional consideration of how to do all there is to do.
Knowing and practicing a variety of effective time management strategies can help you use your time wisely and feel less stressed by having so much to do.
Getting a handle on time management now can help in your future as well. Balancing work, community, family and/or personal life in your future is easier to do if you are practiced in effective time management skills.
 sample_schedule.pdf
Establish your goals. These might include: getting good grades in your classes, earning enough money to pay your bills, spending time with friends and family, attending home football games. Your list will be unique to you and will likely include academic, social, family, financial and recreational priorities. Knowing your goals can help you make decisions about what to spend your time doing each day. If you know what you want to accomplish, you can eliminate those activities and tasks that are not essential to achieving your goals and focus on the activities and tasks that help you reach your goals.
Keep a planner. The purpose of a planner is to keep a list of what you need to accomplish daily, along with a schedule of where you need to be, doing what and when.
There are many calendars and apps on the market to help you stay organized. Find something that works for you.
In planning what to do, review your class syllabi, make a note of class requirements, schedule in your calendar the dates of tests and when projects are due.
Schedule time for studying and completing class assignments. According to the National Survey of Student Engagement, students who earned mostly A's devoted more time to studying each week, with 30% studying more than 20 hours per week.
Schedule in time for other important responsibilities, such as work, taking care of family and student leadership responsibilities.
Consider when you do your best work and prioritize your time accordingly. If you think more clearly in the morning, attend to brainy activities in the morning. If you need to move your body before you start thinking, then choose to be active in the morning and activate your brain later in the day.
Live well. Good health enables you to participate fully in activities that support your success. Set aside time to attend to your wellness needs, such as:
Exercise regularly. The Sun Devil Fitness Complex is a great place for a work out.
Fuel your body and mind with healthy food choices.
Get enough sleep so that you wake up feeling rested. Don't sacrifice sleep to accommodate your busy schedule.
Spend time with friends and activities you enjoy.
Manage stress, as too much stress can compromise your immune system.
Get the flu shot, to reduce risk of having to stay in bed with the flu.
Plan ahead. You know what you need to accomplish by a future date, so you can begin working on it now.
Divide larger projects into smaller tasks that you can do over a reasonable number of days.
Keep a log of how much time it takes you to do various tasks. This will help you learn how much time you need to schedule for these tasks in the future.
Do you have some free time now? This is a great opportunity to work on something that is on your list for a later date.
Is there an activity you would like to attend next weekend? Plan more time to study or work during the week to free up time on the weekend for other activities.
Set boundaries. Inevitably there will be times when your focus on school work comes into conflict with friends, family and activities.
Clear the calendar ahead of time for mid-terms, finals and project due dates. This is the time when you need to focus on getting the grade and let non-essential activities wait until crunch time is over. You still need to sleep, eat and be active. Take care of yourself, while making time for your studies.
When your deadlines are looming, let your friends and family know that you are busy. This is not the time for a long family weekend or a turn-around ski trip.
Be flexible. Be ready to adapt your schedule to your changing needs. Are you falling behind in class? Add a meeting with your professor to your week. Is a friend coming to town for a visit? Postpone scheduled tasks that can wait until you have taken time for a visit. Is there an unexpected expense? Adapt your schedule to allow more time for work. You can still reach your goals.
Always add in some "buffer" time. It takes time to get to and from class. It often takes more time to complete a reading assignment or a project than you originally thought it would. Leave some wiggle room in your schedule to accommodate these variances.
Get help when you need it. If you are having trouble with school, a personal situation, an illness, a relationship, or other areas of life, reach out. Tutoring, academic support services, counseling, health services and other supportive programs are available through ASU to help you overcome challenges and stay the course.